Super Mario (3DS)

Genre
Platformer
Developer(s)
Nintendo EAD
Publisher(s)
Nintendo
Series
Super Mario series
Platform(s)
Nintendo 3DS
Release Date
NA November 13, 2011
JP November 3, 2011
EU November 18, 2011[1]

Mode(s)
Single-player
Ratings
Super Mario 3D Land[2] is the upcoming Mario game on the Nintendo 3DS platform. It was confirmed by Nintendo at GDC 2011. It seems to look a lot like Super Mario 64 but with nice, polished graphics from Super Mario Galaxy and Super Mario Galaxy 2.
Super Mario will have gameplay similar to other 3D Mario games, like Super Mario 64 and Super Mario Galaxy. However, the game will now be similar to the side-scrolling Mario titles, like Super Mario Bros. 3 and New Super Mario Bros.. The levels instead of completing objectives in order to obatin stars, the levels are treated like traditional side-scrolling levels with star coins scattered, a flagpole at the end, and a time limit. Mario's health is no longer shown by a health meter, but instead with one hit Mario becomes smaller and then dies with another hit, like traditional Mario games.
Development
Edit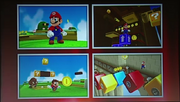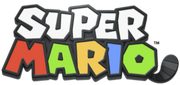 Super Mario was first mentioned in an "Iwata Asks" interview with Shigeru Miyamoto, where he confirmed that a new Super Mario Bros. for the Nintendo 3DS game is in development, but currently has not been given a proper title. According to Satoru Iwata, "it will be a game that will come with the kind of surprises and fun that only the 3DS can offer". The game was officially announced during the Game Developers Conference, under the name Super Mario. Satoru Iwata stated that a more official announcement and showing of Super Mario will be shown at E3 2011 in June.
Reference
Edit